Antimicrobial Irrigation Solutions in Root Canal Treatment: A Glance at the Past, the Present, and the Future
Abstract
Background:
Many current concepts about irrigation solutions have evolved over time; a historical perspective of irrigation solutions and the reasons for their introduction to endodontic treatment is required. The authors of this work believe that a large number of unrecognised published works from the 20th century need to be brought to light so that researchers can acquire some important hints and insights into how those solutions were developed and used in the past.
In this paper, we investigate historical attempts to develop the optimal irrigation solution as well as the evolution of the scientific community's views on how to achieve this aim.
Methods:
A review of the literature related to irrigation solutions in endodontics was conducted using Scopus, Google Scholar, and Web of Science. Historical articles were identified through tracking citations of included articles and were obtained via the library of the University of Dundee.
Results:
Without the attempts of the past, we wouldn't be where we are today, including the role that several irrigation solutions played in endodontics before they were phased out. The observation that none of the currently available solutions had all of the properties that would make them ideal when used on their own led to the conception of the notion of mixing multiple types of irrigation systems, an idea that has since become widely popular.
Conclusion:
This study suggests pursuing two lines of inquiry: first, finding the best companion to sodium hypochlorite that produces no undesirable reaction precipitates; and second, maintaining the effort toward the development of a single irrigation solution that can effectively disinfect the canal without endangering the vital tissues. In general, and for some different possible combinations, there appears to be some light at the end of the tunnel, which is something that will hopefully be uncovered in the not-too-distant future.
Keywords: Antimicrobial, Chlorhexidine, Endodontics, Faecalis, Hypochlorite, Irrigation.

1. INTRODUCTION
This work reviews the contribution of irrigation solutions to endodontic therapy throughout the years. Because many current concepts about irrigation solutions evolved in early times, a historical perspective of irrigation solutions and the reasons for their introduction to endodontic treatment will be provided. Throughout this analysis, it will become clear that irrigation solutions have or have had, a meaningful role in endodontics, regardless of their fate. Although few issues are fully resolved, there are convincing arguments that therapeutic benefits can be achieved with careful selection of irrigation solutions.
To better visualize the historical insights and key concepts in the development of endodontic irrigation solutions covered in this review, with an emphasis on the role of sodium hypochlorite and bis-biguanides, and the importance of continuing research in two primary directions to achieve optimal root canal disinfection, refer to (Fig. 1), which highlights the content of this review.
Inscriptions on excavated Ting dynasty ruins from 1400-1100 BC show the use of the Chinese character, which means "caries". This character's design reflects the era's belief that caries were caused by the infestation of "worms" into teeth [1]. Similarly, during the French Revolution, extremely small "worms" with "a round head marked by a little black spot" were blamed for dental disease (2). Whilst others were not convinced of the presence of "worms", it was a well-established view at that time that "acrid humour" was a major contributing factor to "fistulous abscesses". To remove this irritant, treatment typically included trephination or drainage through the mucosa or root canal, as well as the application of various water-based preparations to the mucosa [2]. Poultices, cautery, and leaches were used, followed by gold foil root fillings that extended to the apex. However, the concept of sterility was not yet known, and it appears that root canal irrigation was not part of the practice of dentistry at the time.
The American Society of Dental Surgeons was founded in 1840 by leading dental practitioners, and the General Assembly of Maryland chartered the independent educational institution devoted exclusively to dentistry that same year. Other dental schools opened, but it wasn't until 1867 that the Harvard Corporation voted to establish the first dental school affiliated with a university and its medical school [3]. Concurrently, in Britain, the London Institute for Diseases of the Teeth opened in 1839, the first dental school was established in 1856, and the Royal College of Surgeons was granted a Royal Charter in 1859, allowing examinations in dental surgery [4]. Intracanal antiseptics, rubber dams, gutta percha, barbed broaches, and general anaesthesia were all introduced into dentistry.
Joseph Lister proposed in 1867 that "germs" exist in wounds [5]. Later research by Robert Koch in 1876 demonstrated that bacilli caused anthrax, which was quickly followed by the development of Koch's postulates, which would change the approach to medicine and dentistry [5]. Furthermore, Koch demonstrated in controlled laboratory studies in 1881 that pure cultures of bacteria could be eradicated by the use of hypochlorite-based solutions [6].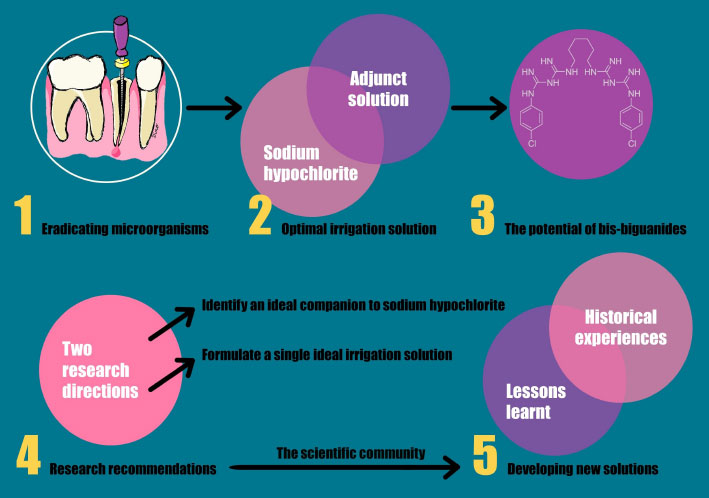 These developments had a direct impact on dental practice. It was widely assumed that sterilization could be accomplished by wiping the root canal with disinfectants and placing intracanal medicinal dressings. Thus, medicaments and broaches became the cornerstones of root canal therapy, and the appearance of periapical pathosis after opening into a pulp was attributed to the operator's lack of sterility [7]. All authors at the time emphasized the importance of using a rubber dam, which was invented in 1864 by Sanford Barnum of New York [5].
Taft was the first to advocate for frequent canal syringing [8]. This recommendation was based on the need to remove any irritants that may have been caused by pulp decomposition products. Irrigation was also advocated when arsenic trioxide, introduced by Shearjashub Spooner in 1836, was used to decompose the pulp [9]. Daily dressings with thorough canal irrigation (presumably with water) were encouraged at each visit, as was the use of "a deodorising agent, such as chloride of sodium" [8].
One author recommended pulp extirpation in a pool of eucalyptus, creosote, or clove oil, arguing that the oils would penetrate the canal as the nerve was removed [10]. Irrigation was also suggested for removing a firmly attached intracanal cotton dressing [11]. However, barbs and broaches were assumed to be the primary "cleansers" of the canal, and when combined with hot air from a syringe, complete canal debridement was thought to be possible [12].
The early literature describes various methods of cleaning the canal using various flushing agents and medications. One spectacular method involved injecting potassium and sodium metals into the canal, causing an "explosion" that effectively removed necrotic pulps [13]. This technique was still supported by at least one author in 1948, who claimed it was effective "in opening any multiple accessory apical foramenae present" [14].
Callahan (1895) proposed a 20%-50% aqueous solution of sulphuric acid applied on a cotton pellet and sealed in the tooth for 24-48 hours to widen root canals [15]. The canal orifice was then filled with a saturated solution of bicarbonate of soda, which caused an explosive effervescent reaction, purportedly neutralizing the acid and forcing debris to the surface. Another author suggested using agua regia (nitro-hydrochloric acid), which produced an effervescence similar to hydrogen peroxide [16]. This author rejected the use of sulphuric acid because "every instrument with which it came in contact underwent corrosion".
Treatment of abscesses through openings of fistulas was routinely advised, with one method involving injection of a pure creosote and iodine solution into and through the fistula [17]. Following that, hydrogen peroxide-carrying barbs and broaches (Donaldson cleansers) were introduced into the canal [17]. The introduction of local anaesthesia, as well as the discovery of radiographs, first used for dental purposes by Otto Walkhoff in 1895, advanced the practice of endodontics by the late nineteenth century [5].
The theory of focal infection, introduced by Dr. William Hunter in 1910 and embraced by many dentists, had a significant impact on dentistry in the first half of the twentieth century [5]. This theory sparked a thirty-year period in which otherwise healthy teeth were extracted to allegedly cure systemic diseases. In fact, by the mid-1940s, this theory was still causing debate [18].
A textbook for dental students at the turn of the century described a technique for draining fistulae in which sodium peroxide was pumped (via a broach) through the canal until it reached the opening of the fistula [19]. Teeth with non-draining or "blind" abscesses were syringed with tepid water, dried, and then injected with hydrogen peroxide until all bubbling stopped. Sulphuric acid or trichloroacetic acid was then introduced into the canal via broaches and cotton and used to remove any remaining filaments.
Following pulp removal, canals were "washed out" with 3% hydrogen peroxide before being pumped with alcohol and allowed to dry. Because asepsis was now considered critical, it was recommended that a solution of sodium peroxide be pumped into the canals and left for a few minutes to "sterilize" the canal [19]. Hydrogen peroxide was said to have the added benefit of inducing haemostasis in the canal [20]. Furthermore, the carbon dioxide produced was thought to drive any remaining canal debris into the pulp chamber when accompanied by syringing with a saturated solution of sodium bicarbonate.
Infected "Septic" pulps could be cleaned with hot distilled water as well. Teeth that were too tender to manipulate were treated by syringing "Meditrina" and stirring with broaches [20]. Case (1905) also recommended routine and repeated syringing with 3% hydrogen peroxide for "septic" pulps. It's worth noting that Meditrina has been described as "sea-water charged with electricity," with antiseptic and deodorant properties [19].
Barret (1901) proposed that the coronal access cavity be irrigated with hydrogen peroxide before pulp removal [21]. Following instrumentation of the canal with moistened broaches carrying dry sodium hydrate, also known as sodium hydroxide or "caustic soda" [22], and hydrogen peroxide, the canal was cleaned with a stream of water and a Donaldson cleanser. The author emphasized the importance of irrigant flowing through the apical foramen to eliminate any debris forced into the periapical tissues during preparation. Another author had previously noted that sodium hydrate (which is closely analogous to potassium hydrate) was highly soluble in water and extremely caustic [23].
With the need for a meticulous aseptic approach in mind, Black [24], a leading authority at the time, advocated irrigating "flooding" the root canal after canal preparation with medicaments such as oil cloves or other "sedative" oils. The use of "irritating germicides" to disinfect was, however, strongly discouraged [24]. Prior to filling, the canal could be irrigated with eucalyptol or oil of cajuput to remove any moisture from dentine by displacement, with this method of drying considered superior to hot air or hot instruments. Furthermore, because the oils dissolved gutta percha slightly, any remaining oil was thought to "stick" the material to the canal walls [24].
Colyer (1919) proposed several irrigation methods. Perforations could be treated by syringing hydrogen peroxide into the canal to stop the bleeding. When performing immediate root fillings, frequent irrigation with warm water removed debris [25]. Colyer also believed that using sodium peroxide and hydrogen peroxide alternately "sterilized" the canal, arguing that sodium peroxide in infected canals formed soap and thus eliminated the canal's "fatty" contents. The contents would then be ejected into the pulp chamber due to the rapid evolution of hydrogen peroxide. In cases where periodontitis was present, daily irrigation with antiseptics was recommended [25].
The importance of removing blood from the canal was recognized, and irrigation with alcohol or "Nature's greatest solvent, water" was advised [26]. It was suggested to use freshly distilled, boiled, or peppermint water (to which phenol had been added). If desired, sodium chloride could be added. For an abscess with a sinus, the same solutions or "any bland solution" were recommended [26, 27], as well as vigorous irrigation via the canal until forced through the sinus. However, the "common practice" of using a hydrogen peroxide solution was condemned [26]. A non-canal approach involving tissue incision and thorough irrigation of the wound with the salt solution was proposed [28]. The canal would then be dressed with a medication.
One astute dentist, Wilkinson, experimented with various "irrigation solutions", including papain, an enzyme found in the leaves, fruit, milk, and seeds of the Pawpaw [29]. However, these solutions were only recommended as a replacement for unavoidable inadequate instrumentation. Grossman and Meiman (1941) conducted the first experiments on irrigant solutions, investigating the solvent action of several agents such as enzymol (which contains gastric juice and proteolytic enzymes), galactonic lactone (a mucin solvent), double-strength chlorinated soda solution, potassium hydroxide (20%), sodium hydroxide, and others [30]. The most effective pulp tissue solvent in this study was found to be double-strength chlorinated soda solution. Dakin (1915), however, discussed the solvent property of sodium hypochlorite in an article on the treatment of infected wounds much earlier [31].
Grossman's (1943) recipe for double-strength chlorinated soda solution called for 18 gm of monohydrated sodium carbonate, 26 gm chlorinated lime, and 4 ounces of water [32]. However, there appears to be some debate in the literature about how the term "double strength" should be understood. While Svec and Harrison (1977) define the term as requiring more than 5% available chlorine [33], Gordon, Damato, and Christner (1981) define the term as requiring 3% available chlorine [34]. Grossman's paper (1941) resulted in a seminal article recommending the use of double-strength sodium hypochlorite combined with hydrogen peroxide to wash out pulp tissue fragments and dentinal shavings after mechanical instrumentation [32]. The effervescence produced by this combination was claimed to "follow the line of least resistance, namely, toward the mouth of the canal and into the pulp chamber". As a result, dentists were advised to always irrigate with sodium hypochlorite at the end to avoid pressure buildup caused by any remaining hydrogen peroxide. Grossman (1943) also recognized that inorganic acids had drawbacks such as periapical tissue irritation [35].
Endodontics experienced a revival around this time, with the establishment of the American Endodontic Society in February 1944, which established endodontics as a distinct field within dentistry. In 1946, the Society began publishing its own journal [36], providing a vehicle for the development and dissemination of new ideas, as well as a more standardised treatment approach. This work will now discuss the research and ideas on endodontic irrigation solutions that have emerged since these times.
To adequately disinfect the root canals, the irrigant must be carefully selected because it complements the mechanical instrumentation used to remove microorganisms in the so-called chemo-mechanical preparation. The ideal irrigant is nontoxic, non-antigenic, non-carcinogenic, capable of penetrating and disinfecting dentinal tubules, and has a long-lasting antibacterial effect. It should also remove the smear layer and dissolve pulpal tissue remnants [37]. There is no ideal irrigation solution at the time of writing this manuscript. Some microorganisms will inevitably be left behind due to their ability to become incorporated into the smear layer and the micro-gaps and irregularities that are commonly found within the root canal system space. For many years, the two most commonly used root canal irrigant chemicals have been sodium hypochlorite and chlorhexidine at various concentrations. They do, however, have some drawbacks, so researchers are looking for an ideal irrigant with superior compatibility and antimicrobial activity.
A variety of endodontic irrigation systems have been proposed throughout the last few decades. Many of these agents, which are prescribed based on anecdotes and personal clinical experience, have not been submitted to rigorous investigation, and when they are, they fail in certain aspects, rendering them obsolete. Other agents have only been investigated by a few researchers and require more independent evaluation before routine usage, at least as an adjunctive, may be advocated. While many of the irrigation solutions to be discussed might possess distinct beneficial properties, none have proved capable of fulfilling the requirements of the "ideal irrigant' [37]. In reviewing the literature, it would be helpful to shed light on some of the outmoded irrigation systems that were once thought to be effective and safe. It will become apparent in this loosely chronological review that none of these irrigation solutions provide significant advantages over sodium hypochlorite. More emphasis will be placed on the action against E. faecalis in the new era of materials that have appeared in the last two decades. This will not apply to older materials because E. faecalis was first discovered in root canals in 1964 and was not given much attention at the time [38]; it wasn't until 1998 that this bacterium species was recognised for its role in endodontic treatment failures [39].
The objective of this historical review study is to investigate and provide a comprehensive understanding of the development and evolution of endodontic irrigation solutions throughout the 20th century and earlier. By examining the scientific community's historical attempts to develop optimal irrigation solutions and exploring the reasons for the introduction and usage of specific solutions in endodontics, the study aims to shed light on the progress made and lessons learned from past experiences. This in-depth analysis will enable researchers and practitioners to gain valuable insights into the development and usage of irrigation solutions in the past, ultimately informing future research directions and the continuous improvement of endodontic treatment techniques.
2. METHODOLOGY
In this historical review article, the methodology focused on investigating the development and evolution of endodontic irrigation solutions. To achieve this, a comprehensive literature search was conducted using Scopus, Google Scholar, and Web of Science databases. The search terms and synonyms included irrigation solutions, endodontics, history, and development, which were combined in specific search strings to refine the results. The inclusion criteria consisted of articles discussing the historical development and usage of endodontic irrigation solutions, published in the 20th century or earlier, and available in English, French, or German. Exclusion criteria aimed to eliminate articles not focused on the topic, lacking historical perspective, providing no original data or insights, or not being available in the specified languages. To ensure the inclusion of relevant historical articles, citations within the initially identified articles were tracked, uncovering additional resources not indexed in the searched databases. These historical articles, including those in French and German, were obtained via the library of the University of Dundee, thus providing a comprehensive understanding of the evolution of endodontic irrigation solutions.
CONCLUSION
The optimal goal of root canal treatment is to eradicate microorganisms within the root canal system, which in turn would reduce the probability of re-infection and treatment failure. Since complete removal is impossible given the now-available irrigation solutions, clinicians should aim at reducing the number of microorganisms that are present in root canal spaces to a level where their presence would not pose any negative effect on the treatment outcome.
The lessons learned from this historical overview are two-fold: the first is that sodium hypochlorite has established its place as one of the primary ingredients in the development of the optimum combination of irrigation solutions, and the other ingredient should be able to compensate for the sole property sodium hypochlorite lacks substantivity. The second is that the search for an ideal solution to perform all of the functions expected of an irrigation solution has waned, and the focus is now on identifying the best solution to serve as an adjunct to sodium hypochlorite. It follows that this can only be obtained by experimenting with a compound, either as-is or in an altered form, that belongs to the family of compounds that best exhibits the substantivity property: bis-biguanides.
This study suggests further research on two fronts: the first is to identify the ideal companion to sodium hypochlorite that yields no undesirable reaction precipitates, and the second is to keep the effort going toward the formulation of an ideal single irrigation solution that can adequately disinfect the canal while posing no risks to the vital tissues. These recommendations should be considered because historically, the best irrigation formulas were initially opposed by some and were only fully implemented after a significant number of research studies were conducted.
LIST OF ABBREVIATIONS
| | |
| --- | --- |
| | |
| EDTA | = Ethylenediaminetetraacetic Acid |
| SEM | = Scanning Electron Microscope |
CONSENT FOR PUBLICATION
Not applicable.
CONFLICT OF INTEREST
The authors declare no conflict of interest, financial or otherwise.
ACKNOWLEDGEMENTS
Declared none.