Aims and Scope
Marcela Monice Arruda, Marina Augusto Toppino, Gabriela Monteiro Barbosa, Hilton Túlio Costi, Cecy Martins Silva, Jesuína Lamartine Nogueira Araújo
---
Background:
The pH of fluoride gels influences the roughness of composite resins, which affects their clinical durability.
Objective:
To evaluate the effect of fluoride gels (1.23% acidified phosphate fluoride and neutral fluoride) on the morphology of different composite resins after finishing and polishing.
Methods:
We prepared sixty specimens with a diameter of 5 mm and a height of 2 mm. The specimens were then divided into six groups (n = 10), according to the type of composite resin (Z250 micro-hybrid (Z), Filtek Z350 XT nanoparticles (XT), and Tetric N-Ceram nano-hybrid (TC)) and fluoride gel treatment (1.23% acidified phosphate (APF) or neutral fluoride (NF)) to measure surface roughness (Ra). The material was light-cured using an LED-curing unit (Elipar Freelight Deep Cure-3M/ESPE) for 20 s with a light intensity of 1.200 mW/cm2. Ra measurements were performed before and after treatment with different fluoride gels using a rugosimeter (Mitutoyo SJ210). After Ra, we selected two samples from each group for evaluation using scanning electron microscopy. Data were analyzed using the Shapiro-Wilk, ANOVA, and Tukey tests, with a significance of 5%.
Results:
The average Ra before and after NF did not differ statistically. The average Ra values of the groups treated with APF showed statistically significant differences. The photomicrographs of the groups treated with NF were similar to those of the groups without fluoride treatment. The APF-treated groups showed significant morphological changes.
Conclusion:
NF did not promote changes in the morphology of the evaluated composite resins, in contrast to APF, which caused significant changes.
---
October 15, 2020
Nasibe Aycan Yilmaz, Ertan Ertas, Hasan Orucoğlu
---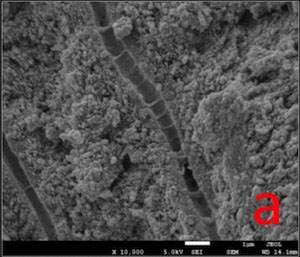 Background/Objective:
The purpose of this study was to evaluate the efficacy and durability of five different dentin desensitizers (Gluma Desensitizer Powergel, Bifluorid 12, Gluma Self Etch Bond, D/Sense Crystal, Nupro Sensodyne Prophylaxis Paste with Novamin) on tubule occlusion and dentin permeability reduction in vitro.
Method:
The quantitative changes in permeability of 100 dentin discs were measured after desensitizer treatments and following post-treatments of 6% citric acid challenge for 1 min or immersion in artificial saliva for 24 hours under hydrostatic pressure generated by a computerised fluid filtration meter. Qualitative SEM analyses were also carried out.
Results:
Dentin permeability decreased after desensitizer application in all groups. Nevertheless, only the difference between 'Gluma Self Etch Bond' and 'Nupro Sensodyne Prophylaxis Paste with Novamin' groups was significantly different (p<0.05). Dentin permeability increased significantly after post-treatments (p<0.05). There was no statistically difference among the citric acid-subgroups (p>0.05). Of all the artificial saliva-subgroups, only the difference between 'D/Sense Crystal' and 'Bifluorid 12' was significantly different (p<0.05). In SEM analysis, morphological changes were detected on the dentin surface and within the tubules following desensitizer treatments and post-treatments.
Conclusion:
All the desensitizers significantly reduced dentin permeability by changing the morphology of the dentin surface and/or dentinal tubules. Following post-treatments, there was some reduction in the efficacy of the desensitizers which was represented by the reduction in permeability values. SEM analysis revealed some physical changes in the dentin structure which can partly give an explanation to the reduced efficacy of tested desensitizers.
---
January 31, 2017