Aims and Scope
Ghofran S. Sulaimani, Lama O. Hejazi, Hanadi S. Lingawi
---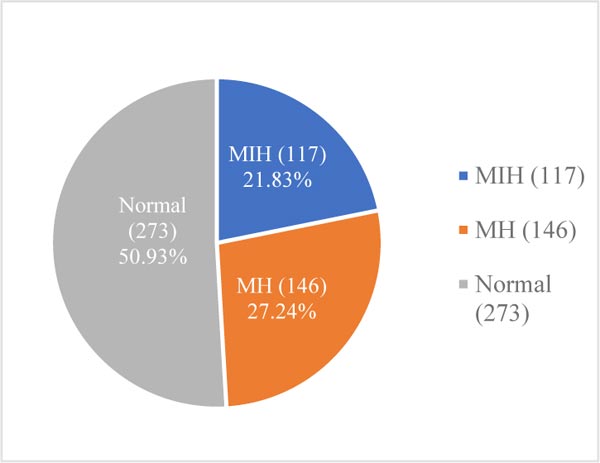 Background:
Molar-Incisor Hypomineralization (MIH) is a developmental defect affecting teeth. The prevalence of MIH and its clinical implications form a challenge for patients and dentists.
Objective:
The purpose of this study was to determine the prevalence of MIH among female school children in Makkah, Saudi Arabia.
Methods:
A cross-sectional study was conducted including 7- to 9-year-old school girls from the public and private sectors. Invitations to participate in the study were sent to the parents of 1,000 randomly selected children, along with questionnaire and consent form. All included children were examined by two dentists who had been previously calibrated in the assessment of MIH (K=0.9), which was diagnosed according to the European Academy of Paediatric Dentistry 2003 criteria. Data analysis was done using SPSS V.22.0 and various statistical tests were conducted to determine significant differences at P<0.05.
Results:
A total of 711 children participated in this study, with a response rate of 82.2%. The prevalence rates of MIH and Molar Hypomineralization (MH) were 20.96% and 26.58%, respectively. The most common form of MIH was the mild form (87.24%), while 18 children (12.08%) were diagnosed with the moderate form. A single child (0.67%) was diagnosed with the severe form. No statistically significant associations were found between MIH/MH and prenatal, perinatal or postnatal factors.
Conclusion:
The prevalence of MIH in school girls in Makkah was 20.96%. Despite its high prevalence, the severity of MIH was relatively mild. The etiology of MIH remains unclear and warrants further investigation in future studies.
---
May 07, 2021
Nasibe Aycan Yilmaz, Ertan Ertas, Hasan Orucoğlu
---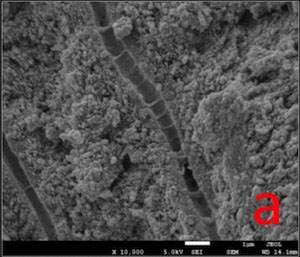 Background/Objective:
The purpose of this study was to evaluate the efficacy and durability of five different dentin desensitizers (Gluma Desensitizer Powergel, Bifluorid 12, Gluma Self Etch Bond, D/Sense Crystal, Nupro Sensodyne Prophylaxis Paste with Novamin) on tubule occlusion and dentin permeability reduction in vitro.
Method:
The quantitative changes in permeability of 100 dentin discs were measured after desensitizer treatments and following post-treatments of 6% citric acid challenge for 1 min or immersion in artificial saliva for 24 hours under hydrostatic pressure generated by a computerised fluid filtration meter. Qualitative SEM analyses were also carried out.
Results:
Dentin permeability decreased after desensitizer application in all groups. Nevertheless, only the difference between 'Gluma Self Etch Bond' and 'Nupro Sensodyne Prophylaxis Paste with Novamin' groups was significantly different (p<0.05). Dentin permeability increased significantly after post-treatments (p<0.05). There was no statistically difference among the citric acid-subgroups (p>0.05). Of all the artificial saliva-subgroups, only the difference between 'D/Sense Crystal' and 'Bifluorid 12' was significantly different (p<0.05). In SEM analysis, morphological changes were detected on the dentin surface and within the tubules following desensitizer treatments and post-treatments.
Conclusion:
All the desensitizers significantly reduced dentin permeability by changing the morphology of the dentin surface and/or dentinal tubules. Following post-treatments, there was some reduction in the efficacy of the desensitizers which was represented by the reduction in permeability values. SEM analysis revealed some physical changes in the dentin structure which can partly give an explanation to the reduced efficacy of tested desensitizers.
---
January 31, 2017