Aims and Scope
Lauren Bohner, Pedro Tortamano, Felix Gremse, Israel Chilvarquer, Johannes Kleinheinz, Marcel Hanisch
---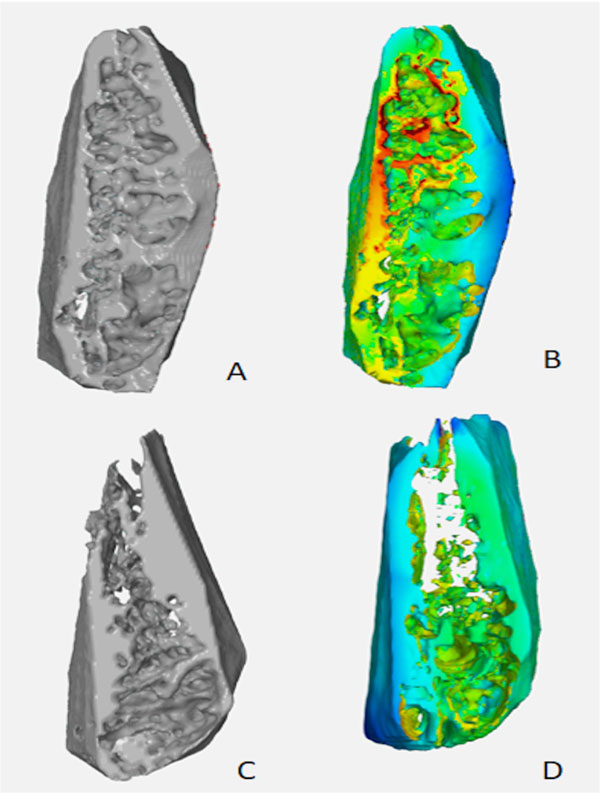 Background:
Cone-Beam Computed Tomography (CBCT) with high-resolution parameters may provide an acceptable resolution for bone assessment.
Objectives:
The purpose of this study is to assess trabecular bone using two cone-beam computed tomography (CBCT) devices with high-resolution parameters in comparison to micro-computed tomography (µCT).
Methods:
Bone samples (n=8) were acquired from dry mandibles and scanned by two CBCT devices: 1) VV (Veraview R100, Morita; FOV 4x4, 75kV, 9mA, voxel size 0.125µm); and PR (Prexion 3D, Prexion; FOV 5x5, 90kV, 4mA, 37s, voxel size 108µm). Gold-standard images were acquired using µCT (SkyScan 1272; Bruker; 80kV, 125mA, voxel size 16µm). Morphometric parameters (BvTv- Bone Volume Fraction, BsBv- Trabecular specific surface, TbTh- Trabecular thickness and TbSp- Trabecular separation) were measured. Statistical analysis was performed within ANOVA, Spearman Correlation test and Bland-Altmann plots with a statistical significance level at p=0.05.
Results:
CBCT devices showed similar BvTv values in comparison to µCT. No statistical difference was found for BvTv parameters assessed by CBCT devices and µCT. BsBv values were underestimated by CBCT devices (p<0.01), whereas TbTh and TbSp values were overestimated by them (p<0.01). Positive correlations were found between VV and µCT measurements for BvTv (r2= 0.65, p=0.00), such as between PR and µCT measurements for TbSp (r2= 0.50, p=0.04). For BsBv measurements, PR was negatively correlated with µCT (r2= -0.643, p=0.01).
Conclusion:
The evaluated CBCT device was able to assess trabecular bone. However, bone parameters were under or overestimated in comparison to µCT.
---
February 16, 2021
Nasibe Aycan Yilmaz, Ertan Ertas, Hasan Orucoğlu
---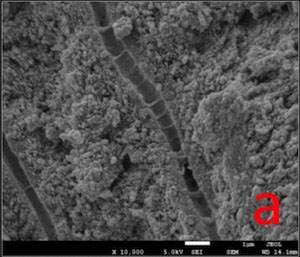 Background/Objective:
The purpose of this study was to evaluate the efficacy and durability of five different dentin desensitizers (Gluma Desensitizer Powergel, Bifluorid 12, Gluma Self Etch Bond, D/Sense Crystal, Nupro Sensodyne Prophylaxis Paste with Novamin) on tubule occlusion and dentin permeability reduction in vitro.
Method:
The quantitative changes in permeability of 100 dentin discs were measured after desensitizer treatments and following post-treatments of 6% citric acid challenge for 1 min or immersion in artificial saliva for 24 hours under hydrostatic pressure generated by a computerised fluid filtration meter. Qualitative SEM analyses were also carried out.
Results:
Dentin permeability decreased after desensitizer application in all groups. Nevertheless, only the difference between 'Gluma Self Etch Bond' and 'Nupro Sensodyne Prophylaxis Paste with Novamin' groups was significantly different (p<0.05). Dentin permeability increased significantly after post-treatments (p<0.05). There was no statistically difference among the citric acid-subgroups (p>0.05). Of all the artificial saliva-subgroups, only the difference between 'D/Sense Crystal' and 'Bifluorid 12' was significantly different (p<0.05). In SEM analysis, morphological changes were detected on the dentin surface and within the tubules following desensitizer treatments and post-treatments.
Conclusion:
All the desensitizers significantly reduced dentin permeability by changing the morphology of the dentin surface and/or dentinal tubules. Following post-treatments, there was some reduction in the efficacy of the desensitizers which was represented by the reduction in permeability values. SEM analysis revealed some physical changes in the dentin structure which can partly give an explanation to the reduced efficacy of tested desensitizers.
---
January 31, 2017