Predictor Model of Root Caries in Older Adults: Reporting of Evidence to the Translational Evidence Mechanism
Abstract
Compared to younger adults, older adults are at greater risk for root caries. A model of root caries may assist dentists in predicting disease outcomes. OBJECTIVES: Using the Iowa 65+ Oral Health Survey, analysis was done to model the patterns of the root caries development in older adults.
INTRODUCTION
Root caries is an infectious disease process that originates on the root surface of a tooth but may extend to involve the enamel surface at the cervical region, other adjacent root surfaces, or both. Teeth become at risk for root caries when gingival recession is evidenced. Gingival recession is greatest in older adults, 90% of older adults demonstrating gingival recession of greater than or equal to 1 mm at 40% of sites affected with mean levels of over 2 mm [1].
The risk of root caries increases with age, particularly in older adults who are irregular users of dental services [2]. In describing the progression of untreated caries, the model of root caries [3] (Fig. 1) provides clinicians with a natural history (algorithm) of the disease process, its sequelae, and intervention points to limit or prevent tooth loss. This algorithm of root lesion progression begins with an exposed but caries free sound root surface. Demineralization of the root surface leads to the initiation of the root caries lesion, producing the incipient lesion. Once patent, the incipient lesion becomes a one-surface lesion. This one-surface lesion may lead to a multiple-surface lesion, involving two, three, or all root surfaces of the tooth.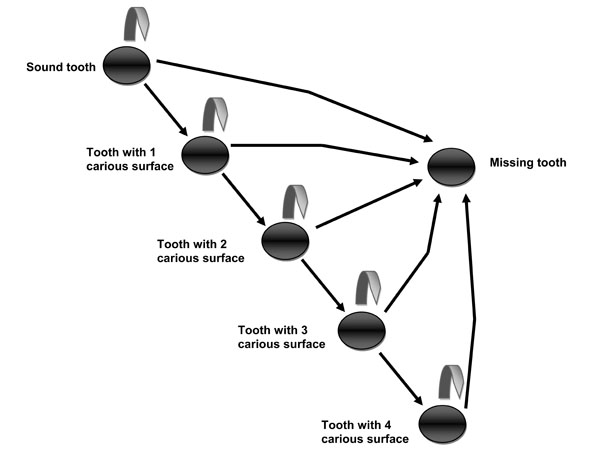 During normal aging, physiologic dentinal sclerosis occurs, decreasing the permeability of the dentinal tubules to bacterial progression. Among other factors, healing and the slowing down of the destructive carious lesion may result from a remineralization process. This remineralization process is promoted by salivary agents and agents delivered to the oral cavity with the use of professional therapies or personal, preventive oral hygiene routines [4]. As a result, a sound root surface may remain caries free, one or multiple-surface lesions may remain in their respective states, and each may not progress to infect other root surfaces of the tooth.
Dental sclerosis may favor spreading of a root surface lesion to adjoining surfaces of the tooth rather than cavitate the infected surface. In a 4-surface lesion, this pattern of morphological loss produces a characteristic collaring of caries extending circumferentially along the cementoenamel junction, below the clinical enamel crown of the tooth. The 4-surface lesion may become chronic. Loss of the root structure may be so significant that it undermines the support of the clinical crown. When tooth structure is compromised, the tooth is at a high risk for fracture, compromising oral or tooth function. The tooth may then be lost due to clinical outcomes that disallow its rehabilitation.
Using the algorithm, caries progression occurs as a random like behavior, evolving over time. Models that study these random, or stochastic, processes use probabilities. A Markov chain model is a commonly used model for a stochastic process [5]. In this paper, we will use the simplest Markov chain in which there are a finite number of states and a finite number of equidistant time points at which observations are made. Under this model, any tooth changes from one state to another state randomly with a determined probability in any given time interval. These probabilities are called transition probabilities and are the same for all time intervals.
The purpose of this study is to evaluate the incidence of root caries in older adults and model the changes of distributions of surfaces affected using a Markov chain model.
RESULTS
Table 1 displays the observed frequencies of each tooth condition. For each time point, percentages of each tooth condition in the whole population are also presented.
LIKELIHOOD RATIO TEST
The Likelihood Ratio Test compared the transition probability matrix for root caries progression from baseline to 18 months with that from 18 to 36 months. The LRT gives a p-value of 0.0225, which implies that at significance level 0.01, we do not reject the assumption (null hypothesis) that the transition probabilities are constant over different time intervals. Thus, the stationary Markov chain model is valid at the 0.01 level.
MLE of the Transition Probability Matrix
The observed transition probability matrices are presented in Table 2. Each matrix shows progression of the carious process at each time interval. The MLE of the common transition probability matrix is presented in Table 3. The MLE of the common transition probability is a weighted average of the transition probabilities from baseline to 18-months and 18-months to 36-months. The probability of a sound surface progressing toward further destruction and loss is low. But once a lesion is manifested, the probability of additional surfaces to be involved with tooth loss as the ultimate outcome increases. The probability of carious progression increases if a tooth presents with a multi-surface lesion. However, the most stable transitions were the states in which a sound surface (95.4%), 1-surface lesion (76.5%), and a 4-surface lesion (88.9%) remained the same in the next time point; there was a lower probability that these states would develop an additional carious lesion.
From the diagonal of the matrix (Table 3), it can be seen that the probability of a sound surface progressing to a 1-surface lesion is only 1.8%, while the change from a 1 to 2-surface lesion is 9.4%. This is over a 5-fold increase, indicating that a sound tooth surface was least likely to develop a lesion. With multiple infected surfaces, the probability of lesion progression increases, 14.5% for a 2-surface lesion increasing to 3-surfaces and 34.5% for a 3-surface lesion progressing to 4-surfaces. The probability of adding a single lesion to any tooth condition increased as the number of initial lesions increased. The probability of tooth loss was also found to increase with the number of lesions (1.6% to 15.4%), except for the 4-surface lesion where probability of tooth loss markedly declines (11.1%). This appears to emphasize the stability of the 4-surface lesion.
Markov Chain Model Validation
Baseline to 36-Month Data
The predicted frequency distribution at 18 months and 36 months were compared to the observed frequency distributions in Table 4. The predicted frequency distributions could be constructed by multiplying a previous observed distribution with a MLE transition probability matrix. For multiple cycles of the model, there was an alternative way to calculate the predicted distribution. The observed distribution at baseline was multiplied by the MLE transition probability matrix several times. The values for the predicted frequency distributions have been rounded off to the nearest integer, similarly for 60-months (Table 5). All the Chi-square tests give p-values greater than 0.5, indicating that there is no statistically significant difference between the observed and predicted distributions. Thus, the prediction with our Markov chain model is successful and valid to 36 months.
60-month Data
For the 54-month (3 cycles) prediction, the 60-month time point was used. As expected, the Markov chain model failed to demonstrate a consistent predictive power at the 60-month period as presented in Table 5, due to the difference of 6 months. The predicted frequency distributions demonstrated significant differences from the observed frequency distribution at p <.0001. We did not have data to test the validity of our model past the 36 month interval in predicting the progression of root caries.
DISCUSSION
Since 1907, Markov chain processes have been employed to develop predictor models for use in healthcare and many disciplines, for example, social and behavioral sciences, bioinformatics, economics, and industry [8-10]. In dentistry, the use of Markov models has been advocated and used to predict the health status of teeth and risk for disease [11-14]. Many analytic methods exist to predict outcomes, for example: Regression models, analysis of variance (ANOVA), covariance (ANCOVA) and multiple (MANOVA), generalized additive models, log linear models, and Bayesian processes, to name but a few [15]. Markov models, however, are useful when a decision problem involves risk that is continuous over time, consists of repetitive events, and time dependence of both probabilities and utilities. In other words, a Markov model is a way of representing a changing set of health states over time, where there is known probability or rate of transition from one health state to another. These conditions more accurately represent clinical settings that involve the variable(s) studied. These models are useful in predicting prognoses and probabilities of disease, in this case, caries within populations [13]. In this study, the use of Markov chains was indicated as the analysis of choice to predict the steady state or progression of root caries.
Statistical Significance
The Predictor Model of Root Caries (Predictor Model) that was developed in this study succeeds in describing the progression of root caries lesions using an 18-month predictive cycle. This predictive modeling is valid to 36 months (2 cycles), but lacks the data to test its validity past 36 months. Thus, this model might be valid for many cycles, but we can only validate it for up to 2 cycles due to data limitations.
Further limiting factors in this study include the data set being over 20 years old and dependent on an isolated geographic population. Thus, the results may have limited application to a broader, contemporary population. In addition, the data was collected under the conditions of a field study that inherently have limitations in visualization, lack of professional debridement of the tooth surfaces, and assessment radiographs were not available for caries diagnosis. Whether or not more later stringent methods of caries assessment, similar to criteria set forth by the International Caries Detection and Assessment System (ICADS, 2004), were used, the criteria for assessment of root caries was consistently applied throughout the study. When errors involving scoring inconsistencies and reversals of diagnosis, these were used as exclusionary criteria in developing the data set for this study.
In older adults, the Predictor Model demonstrates that a sound root surface has over 90% probability of remaining caries free. Our data show that once a lesion is present, the Predictor Model indicates that the one and multiple-surface lesions progress aggressively to infect other adjoining tooth surfaces rather than cavitate that infected surface. For the 4-surface lesion, the Predictor Model demonstrates a maturing of the lesion. Thus, the probability of caries progressing to tooth loss is low.
Root caries are empirically shown to progress during a 3 to 6-month period, with particular aggressiveness in medically and dentally-compromised older adults. For the average older adult, an 18-month interval to detect root caries is adequate, particularly when positive attitudes toward dental care and preventive behaviors are maintained. The ability to predict the caries process in older adults over a 3 year period is also adequate. The Predictive Model demonstrates that maintaining sound root surfaces reduces the risk of tooth dysfunction (morphological destruction) and loss. If demineralization occurs, the incorporation of chemotherapeutic agents during the 18-month interval may slow the caries progression process, especially in compromised older adults. Once the lesion is manifested, it will progressively spread to a 4-surface lesion within the 18-month interval. The Predictor Model is useful in emphasizing early treatment intervention, especially for 1 and 2-surface lesions. However, the probability of further infection of multiple surfaces is high if untreated. In addition, treatment options become more complicated and more expensive, and may result in extraction.
Clinical Significance
While the subjects' preventive and daily oral self-care habits were not documented, the study does provide clinical significance, albeit limited to the population study. Generalization of this clinical significance requires further research from systematic reviews of other current and future published study findings on caries progression and probabilities. Significance is interpreted as caries progression behavior in a 3-year period. In lieu of a set of criteria of parameters that would reflect important therapeutic changes that have clinical relevance to the clinician, significance may be defined as an effect that has meaning in clinical practice [16]. Through clinical experience over a long period of time with local populations, dentists recognize the aggressiveness of dental caries and its deleterious outcomes. This study provides a basis by which quantitative data may be applied to these observations.
Clinical Practice
Dentist may use findings of this study in shared decision-making with patients for determining optimal clinical decision when caries progression is a concern. In this field study of rural older adults, 90% of sound root surfaces remaining caries free over a 3 year period is encouraging. It is also informative to know that once a lesion develops it aggressively infects adjoining surfaces until maturation into the 4-surface lesion, allowing for rehabilitation of lost tooth structure and function. Thus, clinicians would have a basis to discuss prevention and treatment of caries, particularly once evidenced.
CLINICAL PRACTICE GUIDELINE (CPG) – RESEARCHER'S SUMMARY
The Predictor Model of Root Caries predicts the progression of the root caries lesion in older adults over 18-month cycles. This model is valid for two cycles to 36 months, but lacks the data for evaluation past 36 months. A sound root surface shows high probability to remain caries free. However, one and two-surface lesions aggressively infect other adjoining surfaces. Maturing of the carious process occurs with 4-surface lesions, decreasing the probability of tooth loss. The Predictive Model demonstrates that maintaining sound root surfaces reduces the risk of tooth dysfunction (morphological destruction) and loss. Once a lesion is present, early treatment intervention is indicated to reduce the need for more complicated and expensive dental services and prevent tooth loss.
CLINICAL PRACTICE GUIDELINE – DECISION DATA ONLY
Decision Analysis:
Within 3-years, an older adult may experience a root surface(s) that will either remain in its current health status or proceed to another by the following probability:
A sound surface has a 95% chance of remaining sound and very little chance that it will proceed to a root surface with a carious lesion(s).
A one-surface lesion has a 77% chance of remaining the same and very little chance for caries to involve further surfaces of the same tooth.
A two-surface lesion has a 42% chance of remaining the same, 36% chance of caries involving all 4 surfaces, and 14% chance of involving 3-surfaces.
A three-surface lesion has a 49% chance of remaining the same, 35% chance of caries involving all 4 surfaces and a 15% chance of tooth loss.
A four-surface lesion has an 89% chance of staying the same and 11% chance of tooth loss.
Two and three-surface lesions have greater probability to develop into a 4-surface lesion.
REFERENCES
1
White BA, Caplan DJ, Weintraub JA. A quarter century of changes in oral health in the United States J Dent Educ 1995; 59(1): 19-57.
2
Woolfolk MW. The social responsibility model J Dent Educ 1993; 57(5): 346-9.
3
Bauer JG, Cretin S, Schweitzer SO, Hunt RJ. The reliability of diagnosing root caries using oral examinations J Dent Educ 1988; 52: 622-9.
4
Roberson TM, Lundeen TF. Chapter 3. Cariology: the lesion, etiology, prevention, and control In: Roberson TM, Heymann HO, Swift EJ, Eds. sturdevant's art & science of operative dentistry. 4th. St. Louis: Mosby 2002; pp. 63-132.
6
Beck JD, Hunt RJ, Hand JS, Field HM. Prevalence of root and coronal caries in a noninstitutionalized older population J Am Dent Assoc 1985; 111: 962-7.
7
Anderson TW, Goodman LA. Statistical inference about markov chains Ann Math Stat 1957; 28: 89-110.
9
Kendall W, Liang F, Wang JS. Markov chain monte carlo: innovations and applications in statistics, physics, and bioinformatics institute for mathematical scinces, National University of Singapore, 2004, [article online] available from:
http://www.ims.nus.edu.sg/Programs/mcmc
[cited 2006 Jan 28];
11
Helfenstein U, Menghini G, Steiner M, Murati F. An example of complex modeling in dentistry using Markov chain Monte Carlo (MCMC) simulation Comm Dent Health 2002; 19(3): 152-60.
12
Helfenstein U, Steiner M, Menghini G. An outline of graphical Markov models in dentistry Comm Dent Health 1999; 16(4): 220-6.
13
Kay EJ, Nuttal NM. An example of the application of Markov models in dentistry: a prediction of the fate of molar teeth in 12-year-old Scottish children Comm Dent Health 1993; 10(3): 217-3.
14
Koycka-Kedzierawski DT, Billlings RJ. Application of nonhomogenous Markov models for analyzing longitudinal caries risk Comm Dent Oral Epidemiol 2006; 32(2): 123-9.
15
Hill T, Lewicki P, Eds. Statistics: methods and applications: a comprehensive reference for science, industry, and data mining. 1st. Tulsa: StatSoft 2006; 41-57: pp. 81-348.
16
Greenstein G. Clinical versus statistical significance as they relate to efficacy of periodontal therapy J Am Dent Assoc 2003; 134(5): 583-91.