Influence of Taper of Root Canal Shape on the Intracanal Bacterial Reduction
Abstract
Objectives:
Taper is a factor that determines final root canal dimensions and consequently, the space available for the cleaning action of irrigants. Therefore, the aim of this study was to investigate the influence of taper on intracanal bacterial reduction.
Methods:
Sterilized root canals of 25 mandibular incisors were inoculated with E. faecalis and then divided into two experimental groups and one control group (A= saline, B= NaOCl + EDTA and C= control, not prepared). Groups A and B were prepared to an apical size of #30/0.04, a culture was obtained and then prepared to #30/0.08 and cultured again. Final irrigation sequence was 30 ml of saline for group A and 10 ml of 17% EDTA followed by 10 ml of 2.5% NaOCl and 10 ml of saline for group B. The CFU ml-1 of the pre- and two post-operative samplings were recorded. Values were compared by performing ANOVA and FDR for multiple hypothesis testing.
Results:
No statistically significant difference between initial CFU ml-1 readings was recorded, whereas significant differences between group A and B at both 4% and 8% tapers were noted. Furthermore, a linear-dependent reduction of CFU ml-1 was recorded in each group from non-instrumented root canals to #30/0.04 and subsequently to #30/0.08. The positive control group shows the expected reduction of bacterial count.
Conclusion:
Chemomechanical instrumentation was more efficient at reducing E. faecalis when the taper of root canals increased from 4% to 8% and NaOCl plus EDTA led to a greater intracanal bacterial reduction than saline, regardless of the taper achieved.
Keywords: Disinfection, Irrigation, Intracanal bacterial reduction, Root canal preparation, Taper.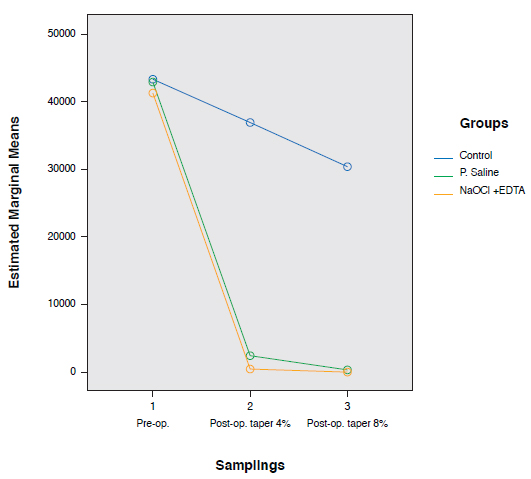 CONFLICT OF INTEREST
The authors confirm that this article content has no conflict of interest.
ACKNOWLEDGEMENTS
This article was adapted from a thesis submitted by Dr. Mary Th. Paraskevopoulou in partial fulfillment of the requirements for the MSc degree in Endodontics at University of Athens, School of Dentistry. We acknowledge the Technical Assistant of the Medical Laboratory, Mrs. Efterpi Kontou, for her assistance in the microbiological procedures used in this research.
REFERENCES
1
Wandelt S. Kann man enge Wurzelkan€ale mit Komplexbildern chemisch erweitern? Experimentelle Untersuchungen und klinische Erfahrungen. Deutsche Zahn€arztliche Zeitschrift 1965; 20: 621-7.
2
Brunson M, Heilborn C, Johnson DJ, Cohenca N. Effect of apical preparation size and preparation taper on irrigant volume delivered by using negative pressure irrigation system. J Endod 2010; 36(4): 721-4.

3
Nair PN, Sjögren U, Krey G, Kahnberg KE, Sundqvist G. Intraradicular bacteria and fungi in root-filled, asymptomatic human teeth with therapy-resistant periapical lesions: a long-term light and electron microscopic follow-up study. J Endod 1990; 16(12): 580-8.

4
Orstavik D, Kerekes K, Molven O. Effects of extensive apical reaming and calcium hydroxide dressing on bacterial infection during treatment of apical periodontitis: a pilot study. Int Endod J 1991; 24(1): 1-7.

5
Simon JH. The apex: how critical is it? Gen Dent 1994; 42(4): 330-4.

6
Wu MK, Wesselink PR. Efficacy of three techniques in cleaning the apical portion of curved root canals. Oral Surg Oral Med Oral Pathol Oral Radiol Endod 1995; 79(4): 492-6.

7
Siqueira JF Jr, Araújo MC, Garcia PF, Fraga RC, Dantas CJ. Histological evaluation of the effectiveness of five instrumentation techniques for cleaning the apical third of root canals. J Endod 1997; 23(8): 499-502.

8
Buchanan LS. The standardized-taper root canal preparation Part 1. Concepts for variably tapered shaping instruments. Int Endod J 2000; 33(6): 516-29.

9
Albrecht LJ, Baumgartner JC, Marshall JG. Evaluation of apical debris removal using various sizes and tapers of ProFile GT files. J Endod 2004; 30(6): 425-8.

10
van der Sluis LW, Wu MK, Wesselink PR. The efficacy of ultrasonic irrigation to remove artificially placed dentine debris from human root canals prepared using instruments of varying taper. Int Endod J 2005; 38(10): 764-8.

11
Arvaniti IS, Khabbaz MG. Influence of root canal taper on its cleanliness: a scanning electron microscopic study. J Endod 2011; 37(6): 871-4.

12
Boutsioukis C, Gogos C, Verhaagen B, Versluis M, Kastrinakis E, Van der Sluis LW. The effect of root canal taper on the irrigant flow: evaluation using an unsteady Computational Fluid Dynamics model. Int Endod J 2010; 43(10): 909-16.

13
de Gregorio C, Arias A, Navarrete N, Del Rio V, Oltra E, Cohenca N. Effect of apical size and taper on volume of irrigant delivered at working length with apical negative pressure at different root curvatures. J Endod 2013; 39(1): 119-24.

14
Khademi A, Yazdizadeh M, Feizianfard M. Determination of the minimum instrumentation size for penetration of irrigants to the apical third of root canal systems. J Endod 2006; 32(5): 417-20.

15
Singla M, Aggarwal V, Logani A, Shah N. Comparative evaluation of rotary ProTaper, Profile, and conventional stepback technique on reduction in Enterococcus faecalis colony-forming units and vertical root fracture resistance of root canals. Oral Surg Oral Med Oral Pathol Oral Radiol Endod 2010; 109(3): e105-10.

16
Gorduysus M, Nagas E, Torun OY, Gorduysus O. A comparison of three rotary systems and hand instrumentation technique for the elimination of Enterococcus faecalis from the root canal. Aust Endod J 2011; 37(3): 128-33.

17
Coldero LG, McHugh S, MacKenzie D, Saunders WP. Reduction in intracanal bacteria during root canal preparation with and without apical enlargement. Int Endod J 2002; 35(5): 437-46.

18
Siqueira JF Jr, Lima KC, Magalhães FA, Lopes HP, de Uzeda M. Mechanical reduction of the bacterial population in the root canal by three instrumentation techniques. J Endod 1999; 25(5): 332-5.

19
Aydin C, Tunca YM, Senses Z, Baysallar M, Kayaoglu G, Ørstavik D. Bacterial reduction by extensive versus conservative root canal instrumentation in vitro. Acta Odontol Scand 2007; 65(3): 167-70.

20
Chuste-Guillot MP, Badet C, Peli JF, Perez F. Effect of three nickel-titanium rotary file techniques on infected root dentin reduction. Oral Surg Oral Med Oral Pathol Oral Radiol Endod 2006; 102(2): 254-8.

21
Byström A, Sundqvist G. Bacteriologic evaluation of the efficacy of mechanical root canal instrumentation in endodontic therapy. Scand J Dent Res 1981; 89(4): 321-8.

22
Byström A, Sundqvist G. Bacteriologic evaluation of the effect of 0.5 percent sodium hypochlorite in endodontic therapy. Oral Surg Oral Med Oral Pathol 1983; 55(3): 307-12.

23
Bystrom A, Sundqvist G. The antibacterial action of sodium hypochlorite and EDTA in 60 cases of endodontic therapy. Int Endod J 1985; 18(1): 35-40.

24
Peters LB, van Winkelhoff A-J, Buijs JF, Wesselink PR. Effects of instrumentation, irrigation and dressing with calcium hydroxide on infection in pulpless teeth with periapical bone lesions. Int Endod J 2002; 35(1): 13-21.

25
Shuping GB, Ørstavik D, Sigurdsson A, Trope M. Reduction of intracanal bacteria using nickel-titanium rotary instrumentation and various medications. J Endod 2000; 26(12): 751-5.

26
Dalton BC, Orstavik D, Phillips C, Pettiette M, Trope M. Bacterial reduction with nickel-titanium rotary instrumentation. J Endod 1998; 24(11): 763-7.