Epidemiology of Surgically Managed Mandibular Condylar Fractures at a Tertiary Referral Hospital in Urban Southwest China
Abstract
Background:
Mandibular condylar fracture is one of the commonest maxillofacial fractures treated by maxillofacial surgeons. Demography of the patients, causation, and characteristics of the fracture depends on various socio-economic factors. Hence, maxillofacial surgeons should be familiar with epidemiology of mandibular condylar fracture.
Objective:
This study retrospectively describes the demography, etiology, fracture characteristics, and hospital utilization of surgically treated mandibular condylar fractures in a tertiary referral hospital in urban China in past five years.
Methods:
Data of all patients who underwent surgical management between 2011 and 2015 were collected. This included aetiology, characteristics of fracture, time, age, sex, associated injuries, and hospital utilization of 166 patients with 208 mandibular condylar fractures. These patients had undergone open reduction and internal fixation with either miniplates or lag screws. Among the fracture of head of mandibular condyle, 21.28% of the patients had the fracture segments removed. These data were statistically analyzed to describe the epidemiology of mandibular condylar fracture.
Results:
Most of the patients had unilateral mandibular condylar fractures (74.7%). Male patients (76.51%) outnumbered female patients (23.49%) in this cohort. The average age of the patients was 37 years. The fractures were mostly caused by fall from height (60.84%) and were located at the condylar neck (53.61%). Most of the patients had other associated maxillofacial injuries (71.08%) which were mostly located at symphysis and parasymphysis (44.59%). It took 12.58 +/- 0.35 days of hospitalization for the treatment.
Conclusion:
Fall from height was the most prevalent cause of mandibular condylar injury in mountainous urban China. The people at highest risk were middle-aged men. Mandibular condylar fracture was mostly located at the condylar neck and was usually associated with fracture at the symphysis and parasymphysis.
Keywords: Bone fractures, Condyle, Epidemiology, Mandible, Maxillofacial surgery, Trauma.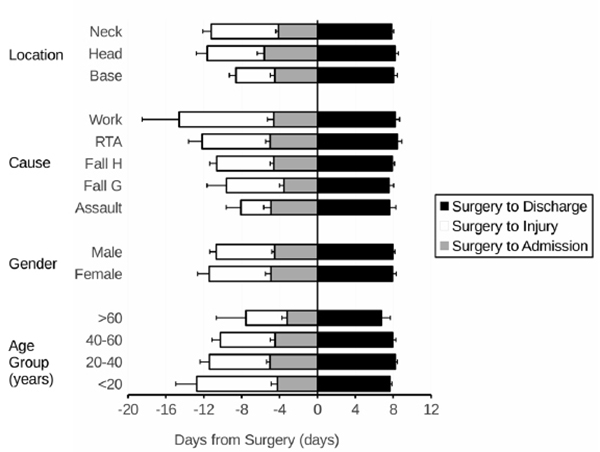 ETHICS APPROVAL AND CONSENT TO PARTICIPATE
Not applicable.
HUMAN AND ANIMAL RIGHTS
No Animals/Humans were used for studies that are base of this research.
CONSENT FOR PUBLICATION
Not applicable.
CONFLICT OF INTEREST
The authors declare no conflict of interest, financial or otherwise.
ACKNOWLEDGEMENTS
This research is funded by, Chongqing Yubei District Commission on Science and Technology (#2015-#01 PJ).
REFERENCES
1
Chrcanovic BR, Abreu MH, Freire-Maia B, Souza LN. 1,454 mandibular fractures: A 3-year study in a hospital in Belo Horizonte, Brazil. J Craniomaxillofac Surg 2012; 40(2): 116-23.

2
Motamedi MH. An assessment of maxillofacial fractures: A 5-years study of 237 patients. J Oral Maxillofac Surg 2003; 61(1): 61-4.

3
Brasileiro BF, Passeri LA. Epidemiological analysis of maxillofacial fractures in Brazil: A 5-years prospective study. Oral Surg Oral Med Oral Pathol Oral Radiol Endod 2006; 102(1): 28-34.

4
Haug RH, Prather J, Indresano AT. An epidemiologic survey of facial fractures and concomitant injuries. J Oral Maxillofac Surg 1990; 48(9): 926-32.

5
Reddy NV, Reddy PB, Rajan R, et al. Analysis of patterns and treatment strategies for mandibular condyle fractures: Review of 175 condyle fractures with review of literature. J Maxillofac Oral Surg 2013; 12(3): 315-20.

6
Bormann K-H, Wild S, Gellrich N-C, et al. Five-years retrospective study of mandibular fractures in Freiburg, Germany: Incidence, etiology, treatment, and complications. J Oral Maxillofac Surg 2009; 67(6): 1251-5.

7
Zrounba H, Lutz J-C, Zink S, Wilk A. Epidemiology and treatment outcome of surgically treated mandibular condyle fractures. A five years retrospective study. J Craniomaxillofac Surg 2014; 42(6): 879-84.

8
Sawazaki R, Lima Júnior SM, Asprino L, Moreira RW, de Moraes M. Incidence and patterns of mandibular condyle fractures. J Oral Maxillofac Surg 2010; 68(6): 1252-9.

9
Gassner R, Tuli T, Hächl O, Rudisch A, Ulmer H. Cranio-maxillofacial trauma: A 10 years review of 9,543 cases with 21,067 injuries. J Craniomaxillofac Surg 2003; 31(1): 51-61.

10
Neff A, Cornelius C-P, Rasse M, Torre DD, Audigé L. The comprehensive AOCMF classification system: Condylar Process Fractures - Level 3 Tutorial. Craniomaxillofac Trauma Reconstr 2014; 7(Suppl. 1): S044-58.

11
He D, Yang C, Chen M, Bin J, Zhang X, Qiu Y. Modified preauricular approach and rigid internal fixation for intracapsular condyle fracture of the mandible. J Oral Maxillofac Surg 2010; 68(7): 1578-84.

12
He D, Yang C, Chen M, Jiang B, Wang B. Intracapsular condylar fracture of the mandible: Our classification and open treatment experience. J Oral Maxillofac Surg 2009; 67(8): 1672-9.

13
Kermer Ch, Undt G, Rasse M. Surgical reduction and fixation of intracapsular condylar fractures. A follow up study. Int J Oral Maxillofac Surg 1998; 27(3): 191-4.

14
Müller-Richter UD, Reuther T, Böhm H, Kochel M, Kübler AC. Treatment of intracapsular condylar fractures with resorbable pins. J Oral Maxillofac Surg 2011; 69(12): 3019-25.

15
Leonard JR, Mancoll W, Duncan DG. Condylectomy: Role in treatment of jaw fractures. Arch Otolaryngol 1968; 87(4): 425-33.

16
Chakranarayan A, Mukherjee B. Condylar segment removal in the management of diacapitular mandibular fractures. J Maxillofac Oral Surg 2012; 11(3): 328-32.

17
Du D, Gao J, Lin X, Zeng J, Ran H. Epidemiological characteristics and preventive strategies for fall injury. Chin J Traumatol 2000; 3(1): 53-6.